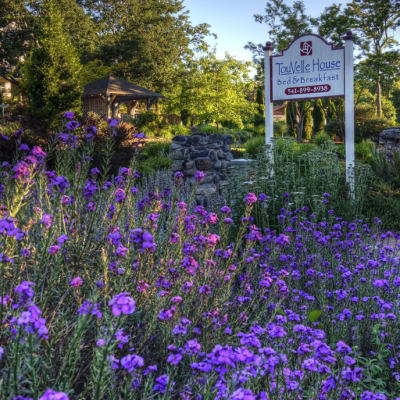 About TouVelle House B&B
Built in 1916 in the Craftsman style, the TouVelle house commanded attention as it sat nestled in six acres of apple trees, atop a rural knoll. Though no longer alone on the small rise at the bottom of the cemetery hill, TouVelle House is still tucked amongst several old and large trees and well enough away from the street to offer a quiet and peaceful retreat from the hustle and bustle of town.
A mere two blocks provides enough distance for a quiet respite, but near enough to easily enjoy shopping, dining and wine tasting opportunities in historic downtown Jacksonville.
Today TouVelle House boasts a little over an acre of landscaped gardens which include a bocce ball court, pond and swimming pool. A Japanese-style garden project is underway and will provide a meditation deck and serene setting from which to enjoy the variety of birds and animals that frequent the property.
Sun room, great room, library and dining room comprise the common areas of the house. Each room has seating and comforts that guests can enjoy on their own or in a group setting.
There are six bedrooms, each with their own bathrooms.