About TouVelle House B&B
Built in 1916 in the Craftsman style, the TouVelle house commanded attention as it sat nestled in six acres of apple trees, atop a rural knoll. Though no longer alone on the small rise at the bottom of the cemetery hill, TouVelle House is still tucked amongst several old and large trees and well enough away from the street to offer a quiet and peaceful retreat from the hustle and bustle of town.
A mere two blocks provides enough distance for a quiet respite, but near enough to easily enjoy shopping, dining and wine tasting opportunities in historic downtown Jacksonville.
Today TouVelle House boasts a little over an acre of landscaped gardens which include a bocce ball court, pond and swimming pool. A Japanese-style garden project is underway and will provide a meditation deck and serene setting from which to enjoy the variety of birds and animals that frequent the property.
Sun room, great room, library and dining room comprise the common areas of the house. Each room has seating and comforts that guests can enjoy on their own or in a group setting.
Additional on-site amenities include:
Complimentary WiFi ~ Smoke-free rooms and common areas ~ Business center ~ Microwave ~ Television with DirectTV listings ~ Bocce court ~ Solar-heated, saline swimming pool ~ Refrigerator on each floor ~ Primo water dispensers on each floor ~ Iron & Ironing boards, Day passes to Snap Fitness, Kindle editions of the New York Times and Oregonian newspapers
There are six guest rooms, each with their own bathrooms. Table Rock room is on the first floor, Frank TouVelle's Room, Elizabeth TouVelle's Room and the Garden Suite are on the second floor, while Crater Lake and Bear Creek rooms sit atop the third floor. Each room boasts a unique style and setting with many amenities.
In-room amenities include:
Complimentary WiFi ~ Dohm white noise generator ~ Individually controlled heating and air conditioning ~ Comphy brand sheets ~ Down comforters and pillows ~ Luxurious waffle-weave robes ~ Hair dryer ~ Non-animal tested, vegetable-based luxury bath amenities ~ Egyptian cotton towels

We are unable to accommodate children under the age of 12 or pets. For additional information please check our Policies.
Breakfast and Other Refreshments
In the morning you will enjoy a full breakfast in the dining room. Relax - this isn't a formal affair - just good food, good coffee and good conversation. Offerings include freshly baked muffins or scones, fresh fruit and yogurt, and a savory egg-based entree such as souffle, frittata or quiche. You won't leave hungry!
Good, strong coffee is available after 7:00 am and breakfast is served at 9:00 am.
If the daily menu doesn't suit you, we offer a selection of alternatives that satisfy most dietary restrictions and allergies. We happily accommodate gluten-free, vegetarian and vegan diets with advanced notice.
Some guests who are hesitant to join a communal breakfast have found that they really enjoy the experience. They have found interesting conversation and like-minded people. For those who don't want to talk, don't worry, let the others carry the conversation and just enjoy the incredible food and coffee.

Guest refrigerators on each floor provide room to store your own items. Tea is always available in the dining room, where you will also find homemade cookies, or some other sweet treat, later in the day.
We carry a selection of local wines and craft beers for purchase by the bottle. There are also cork screws, bottle stoppers and wine/pint glasses for your use.
Our guest pantry includes dishes, flatware, cutting boards and basic condiments to help refresh your leftovers or to kick up your picnic dinner or lunch. A microwave is available in the library for any necessary reheating.
Your Hosts
We are Shawn and Jamie Kerr, owners as of January 2014, and we look forward to welcoming you to TouVelle House. We are fairly new citizens to Jacksonville, having relocated from Los Angeles but we are not newcomers to small town living. Jamie grew up in Medford, an alum of St. Mary's School, and Shawn was raised in Laramie, Wyoming.
Jamie obtained an Associate's Degree in Culinary Arts from the International Culinary School at the Art Institute in Los Angeles. Prior to that, she worked for ten years as a police officer for the City of Ventura.
Shawn enlisted into the Navy out of high school and served in several of the Gulf War campaigns. After 10 years as a bomb technician, Shawn retired from military service and had been working as a digital forensic analyst for a private firm in Los Angeles. He is currently working as a private consultant for digital forensics.
After working in fields where conflict resolution and crisis management were a normal occurrence, we embraced the change to a quieter life. We cherish the time to get our hands in the garden and our minds in the kitchen and to connect with people through hospitality and food.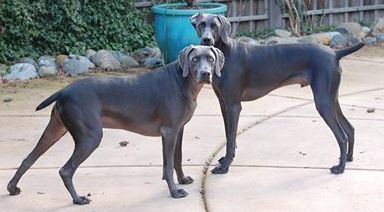 If you venture out to the pool, hammock or sauna, you may encounter our boys, Rebel and Rogue pictured above. They are energetic, playful and love to greet guests. Many times our dogs serve as surrogate pets for guests who have left their furry ones at home. They are available for hugs, kisses and walks through the cemetery.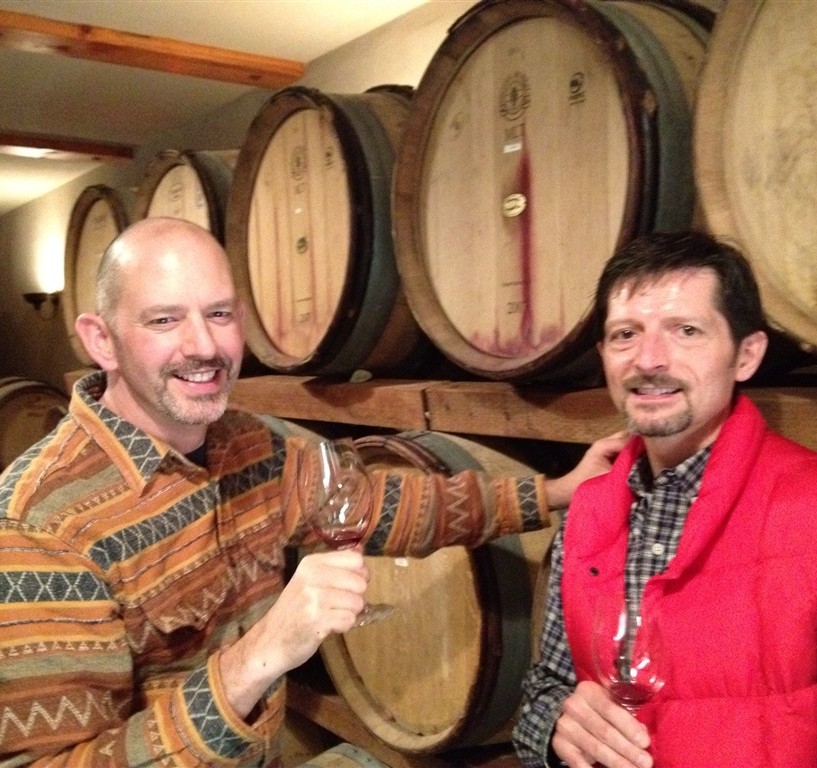 The previous owners, Tim and Gary Balfour, have stayed in Jacksonville and are enjoying themselves and all that Southern Oregon has to offer.
Historic Information
The TouVelle house was built in 1916 by Judge Frank and Elizabeth TouVelle. It is said that Mrs. TouVelle was responsible for the design of the present house, one of the better examples of Craftsman style houses built in the valley, and one of the last grand homes built in Jacksonville. The building site came with a small house built by William Hoffman in 1866. TouVelle constructed the present house to incorporate the smaller one. The current dining room and library comprise what is left of the Hoffman home.
TouVelle, who invested heavily in apple and pear orchards, was elected County Judge of Jackson County from 1913 to 1919. During his tenure as judge, he successfully campaigned for the improvement of county roads. In 1935, Judge TouVelle was appointed State Highway Commissioner by Governor Martin and was directly responsible for the relocation and reconstruction of Highway 99 over the Siskiyou Mountains and the Coast Highway 101.
In 1946, in memory of his wife, Judge TouVelle gave the state 35 acres for recreation and park purposes. In 1964, additional acreage was purchased from the TouVelle estate. This tract is know as the TouVelle State Park and sits along the south bank of the Rogue River, 9 miles north of Medford.
Judge TouVelle died in 1955 and two years later the contents of the house were auctioned at an estate sale.
TouVelle House has been a guest house for over 30 years.